Program notes
Sourindro Mohan Tagore (1840-1914)
Raja Sir Sourindro Mohun Tagore was a bit of an enigma. Born in a place and time that was politically charged, culturally fluid and creatively active, he belonged to one of the most well known and wealthiest families in Bengal. In the 1870s, he was regarded, along with his elder brother Maharaja Jotendro Tagore, as perhaps the single most important patron of music and music education in Calcutta. Apart from his scholarship that produced an impressive list of publications on music and other subjects, he was also equally known as a philanthropist and a polymath with expertise in theatre, literature, gemmology, and history amongst many other subjects.
Nevertheless, Tagore, and his works, were subsequently dismissed in the Bengal nationalist narrative because he was rightly or wrongly perceived as a political collaborator and apologist for British colonisation; a charge not helped by his self-published songs and poetry enthusiastically praising Queen Victoria and the Viceroy of India. Consequently, his work has until recently, sat quite uneasily in the nationalist history and post-Independence radical politics of Bengal; especially when considered in relation to the adulation afforded his illustrious younger relative, the Nobel prize laureate for literature, Rabindranath Tagore.
The challenges of colonialism, nationalism and modernity in Calcutta in the late nineteenth century, provided an impetus for intercultural creative experimentation in literature, painting, education, theatre and, of course music, amongst the Bengali elite and intellectual classes – collectively known as the bhadralok. The historically and culturally significant collection of traditional and hybrid musical instruments commissioned and constructed by Sourindro Mohan Tagore, and the tunes that he wrote based on Indian ragas, were a unique expression of a extraordinary period, often referred to as the Bengal Renaissance.
Sourindro Mohun Tagore was trained in Hindustani classical music, but also learnt piano and Western music theory. He established the Bengal School of Music as part of his commitment to 'a scientific systemisation' of music theory and the wider dissemination of music education. He was convinced that any advance on existing Indian methods of music study must be based on comparative investigation. True to his conviction, he engrossed himself in the study of Western music and also, and engaged a German professor to teach him the piano.
In his pioneering efforts to promote Hindustani music around the world, Sourindro Mohan Tagore personally funded and sent collections of musical instruments (both traditional instruments and those he himself designed and commissioned), along with his books to London, Paris, Berlin, Tokyo, Philadephia and at least ten other destinations around the world, including Melbourne. Importantly, his own designs included a number of hybrid instruments, in which features of Indian and Western instrument design, such as the sitar and violin, were fused together. The Melbourne Philharmonic society on behalf of the International Exhibition (1880-81) were the recipients of his generosity, and in return  awarded Tagore with an honorary life long membership of the society.  Over the years he received many such memberships, certificates and titles from around the world (see fig 2).
The Melbourne collection is now housed in the Music Archives of Monash University (MAMU) while the books are part of the collection of the State Library of Victoria, along with official correspondence with S. M. Tagore. During his lifetime, Tagore published and distributed sixty-eight works on a variety of topics, mainly at his own expense. Publications on Hindustani music account for approximately sixty percent of this generous output. Thirty-two of these include music notation. Amongst the eight books that Tagore sent to Melbourne, now in the SLV's collection is Fifty tunes, composed and set to music (Calcutta: I.C. Bose & Co. 1878). It is from this book that the tunes for this program have been taken.
This year, 2014, coincides with, and marks the centenary anniversary of the end of the remarkable life of S.M. Tagore, a truly enigmatic figure of the time. Interestingly, there has been a renewed interest in the unique contributions of S.M. Tagore to the cultural life of Calcutta, perhaps due to the cultural consquences of globalisation and the contemporary resurgence of intercultural activity in that city.
____________
The Program
The pieces heard today are a small selection of some five or six tunes from Tagore's book 'Fifty tunes…'. Their choice has been determined in part by the contrasting range of melodic material, rhythms and scope that each piece offers for further development. The pieces are also intended to represent a cross section of Tagore's different approaches to putting the tunes together. Each tune is based on a raga, and all of the tunes are quite short in duration – mostly just a few bars. In this sense they sit more closely with jazz tunes than they do with the idea of a bounded composition, as found in Western Classical Music. These tunes were specifically intended for intercultural interpretation. In the preface to Fifty Tunes … Tagore declares:
The following pages give, in a collected form, some of the tunes which the author has composed on different occasions. In setting them, (at the express wish of some of his European friends,) to the European system of notation and in attempting to adapt them for the Piano or other foreign instruments, he has been obliged to make alterations in some of the pieces, whereby they have, to a certain extent, been divested of the variety of embellishments which are so characteristic of Hindu music.
It seems that these tunes, in their more embellished forms, were also meant to be played by his 'native orchestra' (see fig 3). These short tunes are quite cleverly drawn from Hindustani ragas, and are set to a monophonic line written out in Western staff notation. In this sense they work more like thematic tunes do in Jazz. The staff notations provide a melodic line and an indication of the rhythmic cycle in which they are set.
In this program the selected tunes have been firstly set to either a structure, harmonic setting and/or rhythmic 'groove' which is intended to be 'unpacked' in the performance. The actual tune composed by Tagore is clearly presented in one way or another in each piece, but each tune has been placed in a new setting for this performance. Each tune is then further elaborated upon through an interplay between different types of additional composed materials and interpretative improvisatory practices to become the 'piece'. The aim in doing so is to put back the intended melodic embellishments and emotional flavouring into the melodic 'recipe'.
Ragini Imam
This piece begins by setting up a rhythmic structure and melodic context in which Tagore's tune can reveal itself. Firstly, the sarod is heard performing in traditional unaccompanied alap style. Then the other melodic instruments join in over a steady fourteen beat pattern. Once the tabla enters, the tune is then loosely harmonised and heard in its entirety. The last faster section puts back the embellishments and melodic phrasing conventionally established for Raga Iman (Yaman).

Raga Purabi
A flourish on the tabla starts this piece off, before settling into a steady teental thekha (the groove of a 16 beat rhythmic cycle). The full tune is then introduced together by the bansuri and sarod. After playing with the structure and phrases of the tune, a melodic pattern on the bass then provides the basis for an improvisatory section further exploring the melodic shape and sentiment of the tune. The melodic material of this raga may seem quite unusual to those unfamiliar with Hindustani music with its tangy configuration, although it is based on one of its major scale types.
Raga Jhijhit
This is a version of the raga common in Bengal in the nineteenth century (the contemporary  equivalent is Pahadi Jhinjhoti). The original tune is first heard in the introductory bass solo. Two further sections built around specific and recurring rhythmic and melodic devices have been added to explore the raga and the established embellishments it accommodates.
Ragini Sohini
Here the tune is heard in full on the bansuri, which is accompanied by the bass and tabla. The bass provides a counterpoint to the original melody and the rhythmic texture of the tabla lends foundational support. The second section is set to drut teental (a fast sixteen beat rhythm cycle) layed down on the tabla. The bass plays a naghma  (a repeated melodic line) while the bansuri improvises on the raga with its traditional embellishments and character.

Ragini Bhairavi
This is the traditional closing piece of a concert. It starts with the deeply felt melancholic sentiments of the raga expressed on the sarod and bansuri. The original tune is then shared between these two instruments and the bass. The tabla provides the rhythmic support. Being based on what is known in the West as a Phyrgian scale, the melodic material of this raga lends itself to idiomatic elaboration on the flamenco guitar which solos on top of the original tune. The final section features a melodic/rhythmic pattern set to drut teental in the tarana style. Its supports an improvisatory approach on the bansuri and sarod that explores the complex melodic potential of the raga.
The Musicians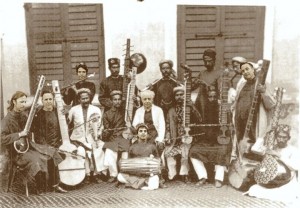 Adrian McNeil – sarod
Adrian is an Australian based sarod player and ethnomusicologist trained in the guru shishya parampara of Hindustani music in India by Pandit Ashok Roy, Professor Sachindranath Roy and Dr Ashok Ranade over many years. He has performed extensively in India, Asia, Europe and Australia and released a number of recordings. Whilst firmly committed to the tradition of Hindustani music and its performance, as an ethnomusicologist Adrian's musical interests are wide and extend to traditional, contemporary and intercultural music around the globe. Our trio Rasa Duende explores meeting points between Hindustani and Flamenco musics. and our debut CD was nominated for an ARIA in 2013. Adrian is a senior lecturer in ethnomusicology at Monash University.
Michael Galeazzi – bass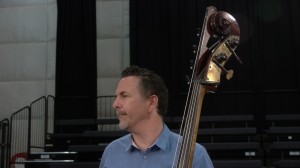 Michael is an ARIA award winning and APRA nominated artist/composer, producer, label owner and session bassist (electric bass guitar and acoustic upright bass), and has over two decades of national and international touring experience. From original projects such as as The Java Quartet  and Karma County, to providing bass for artists such as indigenous legend Jimmy Little and international festival chanteuse Camille O'Sullivan, to playing bass on numerous albums and television shows, Michael is a mainstay of the contemporary music industry in both an educational and creative capacity. He is a lecturer at the Australian Institute of Music and pursuing doctoral research in performance at Monash University.
Vinod Prasanna – bansuri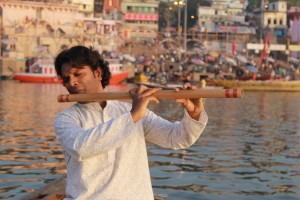 Born into one of India's greatest flute-playing families, award-winning bansuri (flute) virtuoso Vinod shines as an outstanding performer of authentic traditional and contemporary Indian music. Vinod's emotive melodies, exquisite improvisations and divine flute song distinguish his performance of Indian classical, world and meditation music. Vinod has performed and toured extensively throughout his homeland and overseas. Currently residing in Australia, Vinod is a performing and recording artist, teacher, craftsman and ambassador of the Bansuri. Vinod has more than 17 years of performing and teaching experience and continues a family legacy that celebrates more than two-and-a-half centuries of Indian music.
Bobby Singh – tabla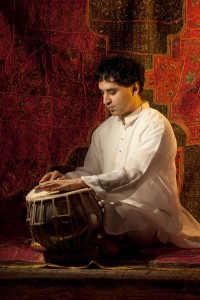 Bobby is Australia's leading tabla player and an ARIA award winner. Bobby is a popular and much sought after musician who has performed in all the major festivals and venues in Australia and has released many albums with different projects all over the world. He has collaborated with leading international musicians here as well as in Europe, Asia and specifically India. He is a long time disciple of the internationally renowned Mumbai based tabla player, Dr. Aneesh Pradhan.
Damian Wright – guitar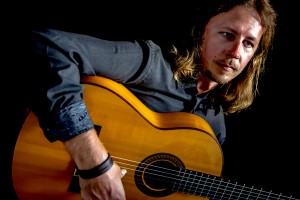 Damian is an ARIA nominated guitarist based in Australia. Damian's flamenco ensemble Bandaluzia won the Sydney Fringe Festival "Pick of the Festival" award and was recently invited to perform at the Sydney Opera House Concert Hall to a sold out audience as part of Tedx 2014 as well as performing at The Sydney Festival and most of the major music festivals in the country. Damian recently performed as a soloist at The Rajasthan International Folk Festival, India. Damian has recorded with Rasa Duende and The Translators on ABC/Universal and Jazzgroove Records and his compositions have been played on ABC radio national and Classic FM. Damian has also composed and performed music for Theatre and film.
Follow up
Articles:
Charles Capwell, 'Marginality and Musicology in Nineteenth-Century Calcutta: The Case Of Sourindro Mohun Tagore', in Bruno Nettl and Philip V. Bohlman (eds), Comparative Musicology and Anthropology Of Music: Essays on the History Of Ethnomusicology (Chicago and London: The University of Chicago Press, 1991), pp.228 – 43.
Flora, Reis W.(2004) 'Raja Sir Sourindro Mohun Tagore (1840-1914): the Melbourne connection', South Asia: Journal of South Asian Studies, 27: 3, 289 – 313.
http://www.metmuseum.org/about-the-museum/museum-departments/curatorial-departments/musical-instruments/of-note/2014/raja-tagore
A Grateful Thank You:
This project was made possible through the auspices of a creative fellowship awarded by the State Library of Victoria. I would like to particularly thank Gail Schmidt and Suzie Gaspar, the Music Archives at Monash University, the Musicological Society of Australia and the Sir Zelman Cowen School of Music, Monash University.