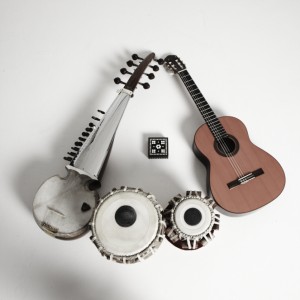 Rasa Duende is a collaboration between internationally acclaimed musicians Bobby Singh (tabla), Adrian McNeil (sarod) and Damian Wright (flamenco Guitar) which explores the rich creative potential of the melodic, rhythmic and aesthetic meeting points between Hindustani and Flamenco music traditions. Their first album 'Improvisations' has been nominated as a finalist in the World Music Category of the ARIA awards 2013.
Rasa Duende expresses a meeting of the two distant points of this journey through a deep understanding of North Indian classical and folk music, as well as the songs, dances and rhythms of Flamenco. This particular collaboration succeeds in finding melodies and rhythms that share the aesthetic sensibilities and primacy of improvisation deeply embedded in both music cultures. Through this perspective the trio works to create a sound that is both fresh and unique, but at the same time is deeply rooted in the history and musical practices of these two cultures.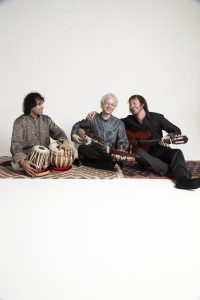 BOBBY SINGH (Tabla):
Tabla player Bobby Singh, a disciple of the great maestro Aneesh Pradhan, is one of the most sought-after musicians on the Australian world music circuit and is the first choice for musicians from India touring Australia and New Zealand.
Bobby has played with such luminaries as slide Guitarist Pt Vishwa Mohan Bhatt, Purbayan Chatterjee, Shashank Subramanium & Guru Karaikudimaniand his guru Aneesh Pradhan.
Outside of the milieu of Indian classical music, Bobby has also formed many partnerships with some of Australia's best known musicians. Crossing many styles of music from Drum & Bass with The Bird to Western Classical with Slava Grigoryan to Blues & Roots with John Butler & Jeff Lang.He has received a creative fellowship award from Australia Arts Council and is the first Indian musician to win an ARIA award with Djan Djan.In the last few years he has been performing regularly in India with many of his cross cultural collaborations.
DAMIAN WRIGHT (Flamenco Guitar)
Damian began studying flamenco in Australia from a young age. His passion for the artform led him to its source, Spain, where he spent years studying under the grand masters of flamenco guitar. Upon his return to Australia, he was funded by The Australia Council to again return to Spain and delve deeper into his study. When finally returning to Australia, Damian has written for and performed with the top flamenco artists in the world within Australia as well as creating his own national touring flamenco group, "Bandaluzia Flamenco" which has become a massive hit in the world and folk festival circuit of Australia.