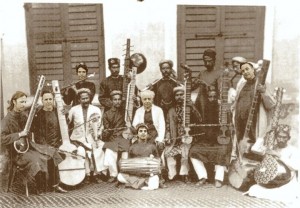 Early musical connections between Melbourne and Calcutta:
Sourindro Mohun Tagore (1840-1914)
and the Melbourne International Exhibition (1880-81)
Around ninety musical instruments and a series of books on music written by Sourendro Mohun Tagore were sent by this leading figure of the Bengal renaissance to the Melbourne Philharmonic Society from colonial Calcutta in 1880-1, as a gift for the celebrations of the opening of the Melbourne Exhibition Buildings. Amongst these were musical scores Tagore, the founding president of the Bengal School of Music, had written in Western notation based on Hindustani ragas. These scores were intended to provide Western musicians with a way of engaging with some of the key melodic elements of Indian music and also to provide material for his 'native orchestra'.
Supported by a State Library creative fellowship, Dr Adrian McNeil has put together an exciting and unique musical ensemble which will bring this music to life through emotionally charged virtuosic interpretations of a selection of these beautiful raga based tunes, for the first time since the 19th century. The ensemble is comprised by internationally renowned Australian and Indian musicians.
These historically important pieces combined elements of Hindustani and Western music. This fusion was emblematic of the late nineteenth century Calcutta, a period when the challenges of colonialism and modernity provided the impetus for intercultural creative experimentation in literature, painting, education, theatre and, of course, music amongst the Bengali elite and intellectual classes – the bhadralok.  This music, along with the historically and culturally significant collection of instruments commissioned and constructed by Sourendra Mohan Tagore, were a unique expression of a extraordinary period, often referred to as the Bengal Renaissance. It was an extraordinary forward looking movement that anticipated the fusion and hybrid musical efforts of contemporary times. In this centenary of the anniversary of SM Tagore's death, it seems fitting to revisit his music and to rediscover this largely unknown connection between Melbourne and Calcutta.
Performance:
State Library of Victoria
Village Road show Theatrette
November 29th,  2014
Shows at noon and 6 pm
Michael Galeazzi (double bass)
Adrian McNeil (sarod)
Vinod Prasanna (bansuri flute),
Bobby Singh (tabla)
Damian Wright (flamenco guitar)
Tickets at the Door:
Free Entry